Telfa Virtual Associates Meeting about Renewable Energies, hosted by Dirkzwager, on November 18th !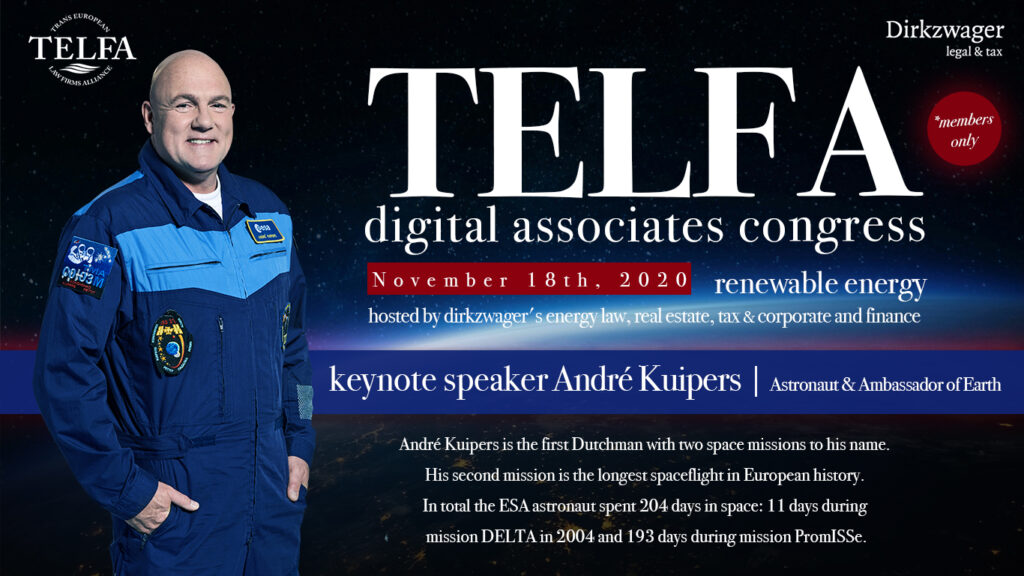 Schedule:
2 PM: Welcome and introduction Karen Verkerk, Dirkzwager       
2.15: Keynote speech: Sustainability André Kuipers    
3.30: Speed networking
4.00: Presentation: The ins and outs of setting up a renewable energy department  Maarten Kole , Dirkzwager
4.15:  Networking session
4:40:  Panel discussion:  Know Your Client: distinguishing renewable energy clients – Moderated by Christiaan van der Meer, with Mayeul Brac de la Perrière (Delsol, France), Karolina Kolban (GWW, Poland), Rob van Houts (Dirkzwager, The Netherlands) and Daan Bastiaans (Dirkzwager, The Netherlands)
5.15  Pub quizz
5.30: Wrap up, Karen Verkerk, Dirkzwager
About André Kuipers
"The name André Kuipers needs no introduction. This physician and ESA-astronaut has been able to look at the earth and its immense beauty from space twice. His first flight in 2004 lasted eleven days, and his second flight between 21 July 2011 and 1 July 2012 lasted an astounding 193 days.
After years of training in Houston, Moscow, Köln, Montreal and Tokyo, André was launched for the second time with a Russian Soyoez rocket. After two days, he arrived in the international space station (ISS) to work and live for half a year. On board, he was not only a physician and scientist, but also flight engineer and service engineer. On 1 July 2012, André returned and landed his space capsule on the steppe of Kazakhstan.
Sustainability
With the space station, André circled the earth 16 times each day. Borders between countries are not visible from space. The global challenges facing us all today however are visible: climate change, deforestation, erosion and the consequences of urbanisation. From space it becomes clear that we live on a very small sphere in a big and dark universe. Basically, earth is a large 'space ship' with limited resources. New technologies, ranging from recycling to earth observation through satellites, are necessary for a good future.
Energy and the future
We are not conducting space travel because it is easy (which is usually isn't) and we are not conducting space travel because it is hard (it usually is), but we are conducting space travel because the yield is enormous. There are plenty of promising opportunities, with the entire wold as customer, from predicting harvest yields with satellites to new fuel cells developed from space travel. And from solar censors keeping solar panels pointed to the sun to mining on the sun. Today's science fiction is the reality of tomorrow.