DELSOL Avocats is strengthening its Life Sciences practice with the addition of Gaëlle Merlier as a partner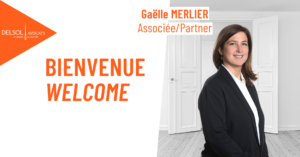 Gaëlle Merlier is joining the DELSOL Avocats Life Sciences practice as a partner accompanied by associate Bastien Pavec, who worked alongside her at Clifford Chance.
The Life Sciences team, led by another specialist in the sector, Jeanne Bossi Malafosse, now has two partners and four associates. They assist their clients, health and medical technology companies, at all stages of their products' lifecycle.
Gaëlle's expertise spans advisory work on regulatory and contractual matters as well as the management of complex, serial litigation in commercial matters and health product liability. She also assists her clients during criminal investigations and in their dealings with the health authorities (particularly in the context of ANSM, DGCCRF, DDPP inspections, etc.). Furthermore, Gaëlle advises her clients on mergers-acquisitions and investments in the health sector (pharmaceutical companies, medical device manufacturers, clinical laboratories and other regulated health professions). Finally, she contributes to the launch of compliance programmes (anti-gift legislation, Sapin 2 Act, lobbying, etc.).
Gaëlle Merlier is a member of the Paris Bar. After taking the oath in 2009, she joined the law firm Hogan Lovells before moving to Clifford Chance's Paris office in 2011, where she was Counsel for Healthcare & Life Sciences. It was then that she was named a Rising Star in Health and Life Sciences by Legal 500.
« We are delighted to have Gaëlle Merlier with us. The Life Sciences Department, now led by two partners with complementary expertise, is continuing its growth and expanding its offering » explain managing partners Henri-Louis Delsol and Emmanuel Kaeppelin.
Gaëlle Merlier adds : « I was won over by the quality of exchanges and variety of possible interactions with the firm's other partners. DELSOL Avocats is also a structure with a strong entrepreneurial culture. Its flexibility and agility allow us to develop our existing and new clients with the ambition to bring them high-level support on all challenges across the health sector. Our collaboration with Jeanne Bossi Malafosse's team will be key in that respect. »