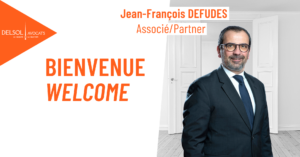 Jean-François Defudes is joining the DELSOL Avocats « Corporate Taxation » practice as a partner.
The « Corporate Taxation » team, led by Julien Monsenego and Frédéric Subra, now has three partners, one counsel and six associates. It advises corporate groups on all their tax-related issues.
Jean-François assists his clients, French and international groups, with their everyday tax matters, including planning or managing tax liabilities, strategy implementation, tax inspections and digitization projects. He has developed solid expertise in making tax digital and provides support during e-tax audits, the generation and validation of accounting entry records, the tax configuration of information systems and the introduction of electronic billing.
His expertise also covers the management and launch of projects delivering both legal and technological solutions.
Following some fifteen years within the tax authority, where he worked with inspection teams and at the Ministry of Finance, Jean-François joined the International Division of the law firm Fidal in 2008 before moving to Taj in early 2020.
Managing Partners Henri-Louis Delsol and Emmanuel Kaeppelin are delighted to have a 32nd partner, explaining : « Jean-François Defudes's cutting-edge expertise, complementing that of Frédéric Subra and Julien Monsenego, will help the firm give our clients high-level support across all their legal and fiscal challenges. »
Jean-François Defudes adds :«  I am thrilled to be joining DELSOL Avocats and expanding its taxation services by sharing all my expertise with our clients, particularly my experience in digitization, an increasingly important area for businesses. »